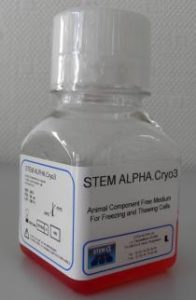 From research… to therapeutic use.

STEM ALPHA.Cryo3 # 5617 Animal component free medium (exempt from proteins, from growth factors, from serum, from albumin….) wich allows cryopreservation of animal and human cells or tissues.
Advantageously used in animal or human research and dévelopment, it allows by its quality and its performances a use for therapeutics aim.
Its Domains of use already cover stem cells, embryos of several animal species as to rabbits, bovine, and certain rare sorts species
STEM ALPHA.Cryo3 is intended for :

Human applications – Somatic Stem Cells
and

Veterinary applications – Stem Cells, Semen and Embryo freezing.

Request for information​
« The information collected is processed by our system so your order can then be processed. The data is transferred to STEM ALPHA. Pursuant to the French Data Protection Act of 6 January 1978 (Informatique et Libertés), as amended in 2004, you are free to access and correct your personal data and information. You can exercise this right by contacting STEM ALPHA, 60 route de saint bonnet 69930 St Laurent de Chamousset. You can also, for legitimate reasons, oppose the processing of your personal data. »